Website Marketing and Search Engine Optimization (SEO)
Internet Marketing and SEO solutions are a necessary compliment to any website. Internet Search Engines like Google, Yahoo and Bing examine your website for key terminology to determine the relevance of your website to the searches performed by your target audience.
The Tinker Graphics Internet Marketing team provides time tested methods for researching your industry and determining the best keywords to use for your website. These keywords and phrases, along with website formatting practices, work together to improve your search engine ranking and bring you business.
Tinker Graphics Internet Marketing Services are monthly contributions that drive your content. Our inclusive and targeted approach works aggressively to increase the ranking of your website and bring you qualified visitors. The key benefits and offerings of the Tinker Graphics Internet Marketing team include:
Identification of Key Market Competitors
Management of Online Advertising Campaigns
Recognition of Targeted Keywords and Phrases
Regular Updates to Maintain an Active Impression
Content Managed to Actively Capture Specific Interests
Management of Satellite Affiliates and Linking Relationships
Submissions to Major Search Engines and Industry Directories
Website Content Authoring
The depth of content presented on your website has a great impact on the value it presents to your visitors and the value (relevance) perceived by the internet search engines like Google, Yahoo and Bing. To improve the relevance of your website in your industry, it is important to use highly descriptive and supporting documents within your website. Tinker Graphics can support your need with our Ad Copy Authoring Service by providing content written specifically to increase visitor retention and search engine relevance.
Pay-Per-Click Advertisement Management
While Marketing through the internet remains a cost effective method of gathering qualified leads, it has become an extremely competitive market that requires aggressive ongoing efforts to stay abreast the competition. Search engines provide systems for advertising directly to your demographic through systems called Pay-per-click (PPC) Advertisement campaigns that represent your products and services when internet searches are performed in your industry. Tinker Graphics Internet Marketing services can include a Pay-Per-Click advertisement management process that works to directly improve sales while increasing the ranking of your website in general search engine query results. Pay-Per-Click advertisements are one of the best methods for targeting demographics through the internet quickly and cost effectively.
Ongoing Index and Content Optimization
This involved process increases the relevance of your website content by heavily integrating industry terminology identified through a market analysis of the target market. Your home page (or index) is the most important page of the website, expressing what your primary business focus (or key competency) is and what web pages are available within your website. Optimizing the index page content and managing the hidden html tags on a continuous basis greatly improves overall website ranking for the targeted keywords and phrases.
Newsletter Management & Distribution
Reaching out to your clients and potential customers through email newsletters is a powerful method for creating lasting brand recognition. Tinker Graphics can provide the tools for managing a newsletter campaign internally, or can manage the process for you as part of an ongoing communication campaign.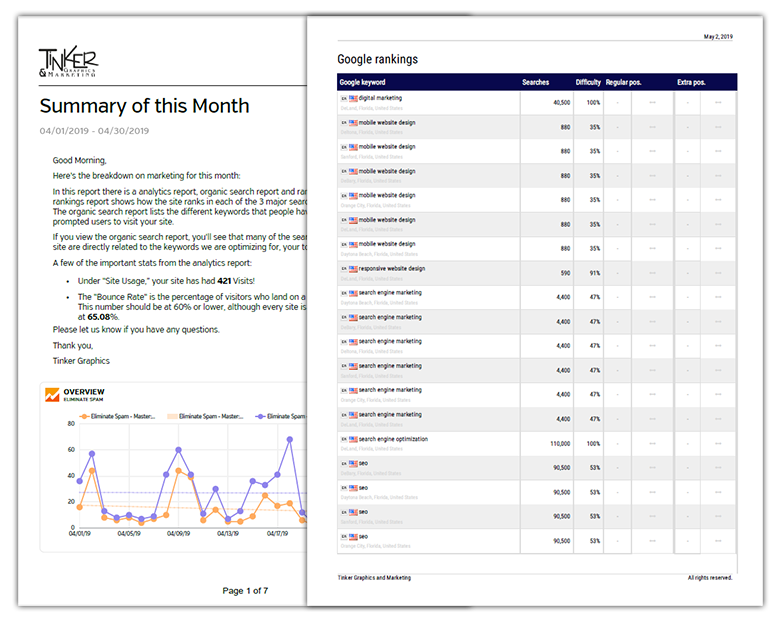 Monthly Traffic Analysis & Ranking Reports
We perform ongoing website traffic analysis and placement checks to see how well your website is performing. Based on this analysis we adjust our process in order to achieve better results. Each month you will receive detailed marketing reports showing the progress of the Tinker Graphics Internet Marketing campaign, search engine ranking results, and updates to the initial competitive analysis.
*SEO services are not verified or endorsed by Google